Family research partners, Joyce Ann Huston and Nikki Williams Sebastian had an exciting & highly educational experience at the RootsTech 2018 convention in Salt Lake City, UT. RootsTech is the largest genealogy convention in the world. Over 15,000 participants attended. The keynote speaker on March 3rd was the legendary scholar, filmmaker, & Harvard Professor, Henry Louis Gates, Jr. who is host of the #1 TV show on PBS, Finding Your Roots amongst other honors.
Through our Black O'Kelleys DNA Project we discovered Prof. Gates is related to us through descendants of Helen O'Kelley & Buck Pickens, Joyce Ann's grandparents. They share DNA with the Gates via the Pickens line. Research is ongoing to find the common ancestor. Meeting Dr. Gates was a major highlight! Check out these videos featuring Joyce Ann & Nikki at the convention: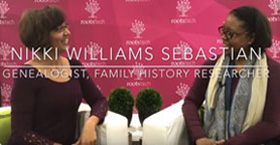 Nikki's interview on the Genealogist's Writing Room: https://www.youtube.com/watch?v=8JrajFL_BNc.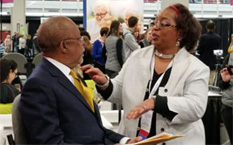 Joyce Ann meets Dr. Gates: https://youtu.be/DlDKu7IxFHE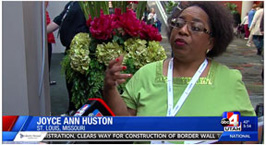 and appears on ABC News Good4Utah.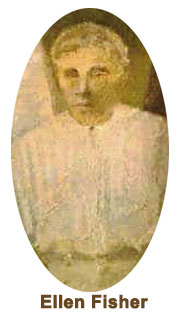 About the O'Kelley Family: Our African-American matriarch, Ellen Johnson-Mathews-Fisher, a Mulatto woman was born about 1843 was born in Virginia. Family legend states Ellen was purchased in order to bear children and that she refused to succumb to the advances of the "massa" O'Kelley until she was beaten, blinded in one eye, and threatened to be tossed into a burning bush. Subsequently, she would have children by James Edward O'Kelley and after his death, his brother John Beatty O'Kelley.
We have found a historical deed record which includes an entry regarding a slave named "Ellen", who was willed to Elizabeth Ann Middleton - a minor child. The difference in age makes this a questionable resource of "our" Ellen matriarch. Elizabeth would later become the wife of James Edward O'Kelley (also spelled O'Kelly) who is listed as a planter and slaveowner in the 1860 Wilkinson County, MS Slave Schedules. Slave schedules did not list the actual names of those counted, but the census enumerations for this particular schedule does show one 17 year old female on the O'Kelley plantation. Ellen would have been 17 years old in 1860. Her marraige bond of 1878 to William Fisher, lists her last name as Mathews.
Ellen had three (3) O'Kelley sons; Daniel Smith (May 1862 - Dec. 25, 1930), Will Dock (Nov. 1868 - Mar. 4, 1927), and Charles Edward (Jun. 1870 - Apr. 1943). Oral history speculated that a relationship was continued between Ellen and her O'Kelley slaveowner after the abolition of slavery and that there were two brothers involved.
According to death certificates found, the white James E. O'Kelley fathered Daniel and Will.
James' brother John Beatty O'Kelley fathered Charles E. O'Kelley.
James E. died in 1867 so he could not have fathered the last O'Kelly son.
These records confirm the story of Ellen's involvement with the two brothers. Thanks to white and black participants in our DNA project, our heritage has been confirmed to be from this O'Kelley family.
Ellen had 10 children known at this time: The 3 abovementioned O'Kelley brothers, Ella O'Kelly (b. abt 1864) Cordelia (Delia) Johnson (b. abt 1855), Virginia Johnson-Brooks (b. abt 1857), Lewis Johnson (b. abt 1859), John Archie Hilliard/Hillery (b. abt 1872), Amos Mathews (b. abt 1874), and Theresa (Saresta) Fisher-O'Neal (b.1880). Cordelia is said to have died early in her life. Census records of 1880 show Ellen Fisher, 37, resided in Wilkinson County, Mississippi, in the city of Woodville, with her husband William Fisher and children. Ellen's three O'Kelley sons raised their families in Woodville, MS near Natchez (Adams County), and near the city of Greenville - in the now defunct town of Magenta, MS (Washington County). They were self-contained and educated business men with farms and Will, a barber shop. Daniel ran a school house and sent several of his children to college back in the 1920s.
Our first O'Kelley family reunion was held in St. Louis in the early 1930s which was spurred following the death of the eldest O'Kelly son, Daniel Smith. Daniel died on Christmas day, December 25, 1930. His eldest daughter, Evelyn/Evelina Cordelia O'Kelley suggested the family start holding family reuions. Reunions were held throughout the years but were stalled in 1940 due to a large number of family members serving overseas during World War II. Our family served as military police, nurses, WACs, aerial photographers & other positions during the war. The reunions resumed in 1943 and were held yearly until 1968 when due to the large turnouts, the decision was made to hold them at hotels every two years rather than in homes of various family members The tradition continues on today. The O'Kelley family combined the year 2000 reunion with the Darris family originally of Louisiana--our double cousins. Two Darris cousins married two O'Kelley sisters.
We have created this website to help close all gaps in our family tree. We want this website to reach all those who are involved in genealogy searches for their families as well. Hopefully this website will answer questions for others in their search and visitors will help us answer questions we have as well. Please feel free to send comments, questions and suggestions.
*Census and vital records have been found with both spellings of O'Kelly & O'Kelley