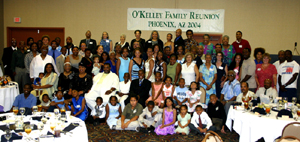 Click on photo for larger image
June 10 - 13, 2004
(Thursday - Sunday)
Hosts Mr. and Mrs. Gerry "Doc" Huston
Direct reunion 2004 questions/comments to: Ghuston@peoplepc.com
Dear Family & Friends:

Thank you all for your insight and support in helping us see another family legacy continue "The First O'Kelley Family Reunion" held in Phoenix, AZ. The O'Kelley Family Reunion 2004 and the attendance as great now as it was in the past. Much love, applause and show of appreciation goes out to all the volunteers, performers, registration table helpers, speakers and to Diane "Lady Di" Huston for being that Special Hostess.
We hope we did not let our ancestors down! The goal was to get as many families as well as friends who did not know of our rich traditions to feel some of the Love We Have. We really hope you all had a great time, which was also especially moving.
Thank you all for the lasting memories and we appreciate knowing that what our Ancestors did then and what We started two years ago (planning the O'Kelley Family Reunion 2004) was not in vain.
God Bless You All,
Hosts - Gerry "Doc" and Diane Huston
We appreciate knowing how you feel:

Please write to:
O'Kelley Family Reunion 2004
c/o Gerry "Doc" Huston
10102 E. Olla Ave.
Mesa, AZ 85212
Or, sign the Guestbook on this website to publicly share your thoughts about the reunion.

The following information was provided during the reunion preparations:
The reunion plans are now in full swing to take place at the Embassy Suites Hotel Phoenix-Airport. Please be sure to notify the hosts of your T-Shirt sizes and meal choice of Chicken, Beef or all Vegetarian for the Saturday evening banquet.
The main spot for hanging out will be at the Hospitality Room located in the V.I.P. ROOM 401-A. Access to the hospitality room will include a variety of snacks, beverages, and games.


Reunion Details and Registration Form:
Details on the reunion can be found in the O'Kelley Family Newsletter which is sponsored by the Arizona reunion planning committee.
Click here to read the newsletter!
You are encouraged to print and mail the newsletter to people who have not received prior O'Kelley family mailings. Copy to double-sided pages to reduce the amount of paper.
Please help to keep the mailing list current by submitting home mailing addresses, email addresses and phone numbers to Joyce Ann Huston at: info@blackokelleys.org.

The Embassy Suites Hotel Phoenix-Airport
1515 North 44th Street, Phoenix, AZ 85008
Toll Free 1-800-447-8483
Tel: 1-602-244-8800 Fax: 1-602-306-1636
Family Reunion Activity Fees:
$75.00 for Adults
$50.00 for seniors 60+
$35.00 for children 12 and under
Fees after February 1, 2004
$100.00 for Adults
$70.00 for seniors 60+
$50.00 for children 12 and under


Back to Reunions Page