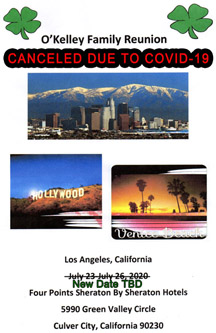 Click here for reunion letter!
2020 O'Kelley Family Reunion in Los Angeles, CA Has Been Canceled
The O'Kelley Family Reunion was to be held in Los Angeles, CA Thursday - Sunday, July 23 - 26, 2020 with an optional day on Wednesday, July 22 for an opportunity to be on the "Price is Right". The reunion was to be hosted at the Four Points by Sheraton Hotel - Los Angeles Westside, 5990 Green Valley Circle, Culver City, CA 90230, (310) 641-7740. When booking rooms, ask for the O'Kelley Family Reunion rate, https://www.marriott.com/hotels/travel/laxwf-four-points-los-angeles-westside.
Reunion Hosts are Mr. & Mrs. Kevin & Susan Atkins. Susan is married to Kevin who is a descendant of Daniel Smith O'Kelly (son of Ellen Fisher) > his daughter Virginia O'Kelley Gladney > her daughter Gloria Gladney Atkins.
NEW DATE TO BE ANNOUNCED
Click here to be added to the email and mailing list
for family and reunion news.